Etiquette
In the station
・ Refrain from using smart phones or other devices while walking in the station or in the train as doing so can result in collisions with other passengers and may result in tripping and falling.
・ Be careful when walking with your suitcase.
・ Use the escalators safely and responsibly.
Click here for more information (PDF, 532kb)
While waiting for a train at the station
・ To ensure that embarkation/disembarkation of the train proceeds smoothly, please form lines when waiting for the train.
・ Be careful not to fall off the platform when walking along the edge.
Click here for more information (PDF, 122kb)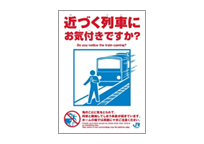 In the train
・ So as not to be a nuisance to other passengers, refrain from speaking loudly or shouting while on the train.
・ Please set your cell phone to the silent mode and refrain from making/accepting calls while on the train.
・ Discard of food and beverage waste in the receptacles provided in the station or in the train.
Lavatory etiquette