Supporting travelers in the event of sudden illness, disasters, or other travel problems! Available exclusively to JR-West product users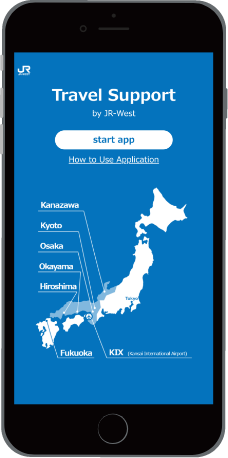 Terms of Use
Purchase a JR-West product (No additional fee)

Travelers who have purchased a JR-West product (rail pass, ticket, ICOCA card, etc.) are eligible to use the service at no additional charge.

Click here to see eligible rail passes

*

ICOCA cards with special designs are also eligible.
User information registration

Users must register to use the service. Registration information includes gender, age, nationality, and ticket information.
*

An internet connection is required to use this service.

*

Recommended device environment: [OS] iOS 13.0 or later; Android 9.0 or later /
[Browser] Safari 13.0 or later; Google Chrome 83.0 or later
Using the Service
Visit the app site.

Scan the QR code or access the following website.
Tap [Start app].

Select your language.

Select the preferred language to use.

Please read and agree to the Terms of Use.

Please read our cookies policy and tap [Accept].

Tap [Check] to view the Terms of Use.

Review the Terms of Use and tap [Accept].

Register your user information.

Enter your gender, age, and nationality.

Register an image of your product.

If using an ICOCA card, register the number on the back.

Upload a picture of your rail pass, ticket, ICOCA card, or other product from your smartphone.

*

If you registered before arriving in Japan, scan your ticket after receiving your ticket.

Use the service