Supporting travelers in the event of sudden illness, disasters, or other travel problems! Available exclusively to JR-West product users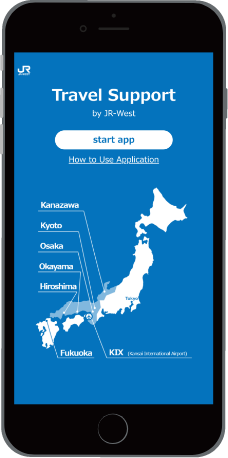 2020.12.01Start
Overview of Service
Multilingual assistance for medical consultations(for describing injury or illness)

Enter your injury, illness (for colds and other ailments), or pre-existing medical conditions directly on your smartphone for onscreen translation into Japanese (16 languages supported).

Disaster evacuation information

Find your nearest designated evacuation site on an area map to ensure safety in the event of a disaster.

Dietary restriction support / Prayer room information

Enter any dietary requirements (according to Islamic jurisprudence, allergies, vegetarian dietetics, etc.) directly on your smartphone for onscreen translation into Japanese
(5 languages supported). Prayer room locations, hours of use, and other information are also available.

Disaster/hospital information

Get connected to multilingual JNTO and Osaka Convention & Tourism Bureau call centers (available at any time, all year round) for emergency information (for accidents, etc.), disaster information, or general tourism information, and find medical referral contact information.

JR-West Train Service Information

See information on delays and operational statuses for all JR-West lines and sections.

Tourism Information

Get access to various websites offering useful information for your trip to Japan, including JNTO and the Osaka Convention & Tourism Bureau sites.
Terms of Use
Purchase a JR-West product (No additional fee)

Travelers who have purchased a JR-West product (rail pass, ticket, ICOCA card, etc.) are eligible to use the service at no additional charge.

Click here to see eligible rail passes

*

ICOCA cards with special designs are also eligible.
User information registration

Users must register to use the service. Registration information includes gender, age, nationality, and ticket information.
*

An internet connection is required to use this service.

*

Recommended device environment: [OS] iOS 13.0 or later; Android 9.0 or later /
[Browser] Safari 13.0 or later; Google Chrome 83.0 or later
Using the Service
Visit the app site.

Scan the QR code or access the following website.
Tap [Start app].

Select your language.

Select the preferred language to use.

Please read and agree to the Terms of Use.

Read about the app's usage information and tap [Accept].

Tap [Check] to view the Terms of Use.

Review the Terms of Use and tap [Accept].

Register your user information.

Enter your gender, age, and nationality.

Register an image of your product.

If using an ICOCA card, register the number on the back.

Upload a picture of your rail pass, ticket, ICOCA card, or other product from your smartphone.

*

If you registered before arriving in Japan, scan your ticket after receiving your ticket.

Use the service