Train and Station Manners
Etiquette
In the station
・ Refrain from using smart phones or other devices while walking in the station or in the train as doing so can result in collisions with other passengers and may result in tripping and falling.

・ Be careful when walking with your suitcase.

・ Use the escalators safely and responsibly.

・ Selfie sticks on train platforms may come in contact with trains or electric lines. Keep them stowed away so that they do not cause injury.

・ If you drop something onto the train tracks remember that the trains approach rapidly.
Never go down onto the tracks - it is very dangerous!
If you drop something onto the tracks, please alert station staff.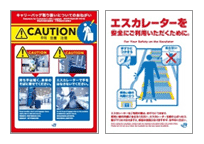 While waiting for a train at the station
・ To ensure that embarkation/disembarkation of the train proceeds smoothly, please form lines when waiting for the train.

・ Be careful not to fall off the platform when walking along the edge.

・ On train platforms, cutting in line or rushing to the train will cause trouble and disrupt the process for everyone.
Please form a line and board in order.

・ Cars with this sticker are for female passengers only.
Male passengers who are no older than elementary school age or who require assistance (such as those in nursing care) may ride in these cars.
Please check for these stickers when boarding.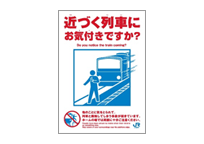 In the train
・ So as not to be a nuisance to other passengers, refrain from speaking loudly or shouting while on the train.

・ Please set your cell phone to the silent mode and refrain from making/accepting calls while on the train.

・ Discard of food and beverage waste in the receptacles provided in the station or in the train.

・ There are priority seats in every train car.
They are marked with these stickers.
They are reserved for expectant mothers, nursing mothers, those with disabilities, the elderly, and other such passengers.
If one of these people is in need of the seat, please let them use it.

・ Speaking loudly inside trains is an annoyance to nearby passengers.
Please keep your conversations quiet.

・ The area around the train doors should not be used to store suitcases and other large items.
Please leave space for other passengers to easily get on and off the train.
Lavatory etiquette
・ Sit down to use the toilet.

・ Do not throw toilet paper in the trash. Flush it down.

・ Press the button to flush the toilet.