TOKAIDO-SANYO SHINKANSEN

Facilities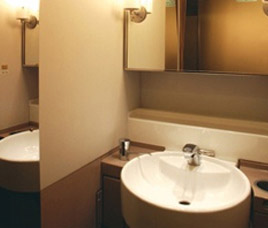 Clean, bright, and functional washroom
In the washroom, the lighting is placed to the left and right of the mirror, providing an ambient sense of luxury. Some Hikari and the Kodama trains offer large three-sided mirrors ideal for checking personal appearances or adjusting makeup before exiting the train. Also, a multipurpose room is available for various purposes such as nursing a baby or getting changed, just another meticulously crafted detail to make the ride more comfortable.
*Customers with disabilities should be given prioritized use of multipurpose rooms.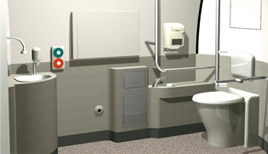 Clean multifunction toilet
The toilets in all cars are Western style and offer various functions that include a diaper changing table and a heated seat that opens and closes automatically. Ostomate-friendly toilets offer automatic doors in addition to automatic locking functions.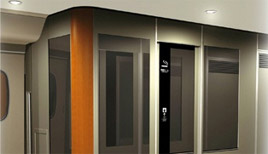 Smoking room
In the drive to provide clean air to all passengers at all times, our Shinkansen offer smoking rooms that are completely separated from other areas.
Combined with a new air conditioning and ventilation system, these rooms help keep the in-cabin air fresh, making it possible for JR to continue offering a clean passenger environment.