Exchanging E-Tickets (Purchased at a Travel Agency) from a Green Ticket-Vending Machine
For customers with a QR code similar to the design on the right, please follow the procedure below to receive tickets.

Ticket reception location
The stations at which tickets can be received are limited depending on the pass type.
Click here for more information.
Deadline for receiving tickets
3 months from E-Ticket issue date
Items needed to receive tickets
Notes
* Be sure to receive your ticket before boarding the train. Boarding the train without first receiving your ticket will result in your having to purchase the necessary tickets again inside the train (at a non-discounted price).
* QR code is a registered trademark of DENSO WAVE Incorporated.
Receiving Tickets from a Ticket-Vending Machine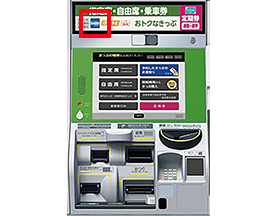 Tickets can be received at a green ticket-vending machine displaying the

mark in the ticket reception station.
Click here for information on ticket reception stations
Select the language you wish to use.
* The initial display is in Japanese

Select "Receive reserved ticket(s)".
* The screen may be different.

Select "EXCHANGE ORDER (E-TICKET)".
* The screen may be different.

Scan the QR code you were issued when you made your reservation, or enter the Exchange Order No. included with your E-TICKET.

Enter the date you will start using the ticket.
* The usage start date cannot be changed after the ticket is issued.

Confirm the conditions of use (passport, entry visa, etc.).

Confirm that you accept the purpose for which your personal information will be used.

Swipe the passport page with your photograph on it.
* A passport with an IC chip is required for this.
If your passport does not have an IC chip, please go to the ticket office. Some passports with IC chips may not be readable. Please visit the ticket office if your passport cannot be read.

Your ticket will be issued. Please take it from the machine.

Use the ticket to enter the automated ticket gate (GATE B).