Safety Research Institute
In-House Initiatives
In addition to promoting fundamental research on human factors, the Safety Research Institute is involved with various research by request from each field within the company in an effort to reduce specific human errors on-site.
The Institute not only regularly exchanges opinions with the head office and with each branch office to disseminate the idea of human factors and the latest research results as widely as possible, but also listens specifically to the problems each workplace faces and follows up on proposals for the research theme in an effort to improve workplace safety.
Moreover, the Institute promotes various initiatives such as accepting trainees, delivering on-site lectures on specific fields, and conducting experiments that take advantage of on-site facilities.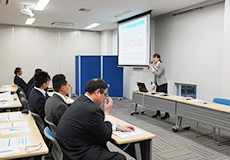 Initiatives Outside the Company
In conducting research on human factors, the Safety Research Institute often asks the Railway Technical Research Institute for guidance. The Institute also seeks guidance from universities and other institutions, and the research results obtained through this joint research and other efforts are presented to academic societies and railway-related publications both within Japan and throughout the world in an effort to share findings with as many people as possible in a variety of fields.
Thanks to sponsoring from the Kansai Railway Association and with the support of the Kinki District Transport Bureau, the Institute also hosts the "Human Factor Symposium" every year. This symposium invites safety control managers from various Kansai railway companies, other JR companies, and other Japanese railway companies (337 participants from 45 participating companies) to discuss improvements of railway safety with a focus on human factors.
Finally, the Institute also actively conducts lectures not just for the railway industry but also various other industries— including airline, electricity, gas, medicine, police, and firefighting—all in an effort to spread the ideas and results of human factor research as wide as possible.
Research System
As shown in the following diagram, the Safety Research Institute is positioned as an independent organization within the head office. The institute includes a planning group for managing the organization, and three individual research laboratories.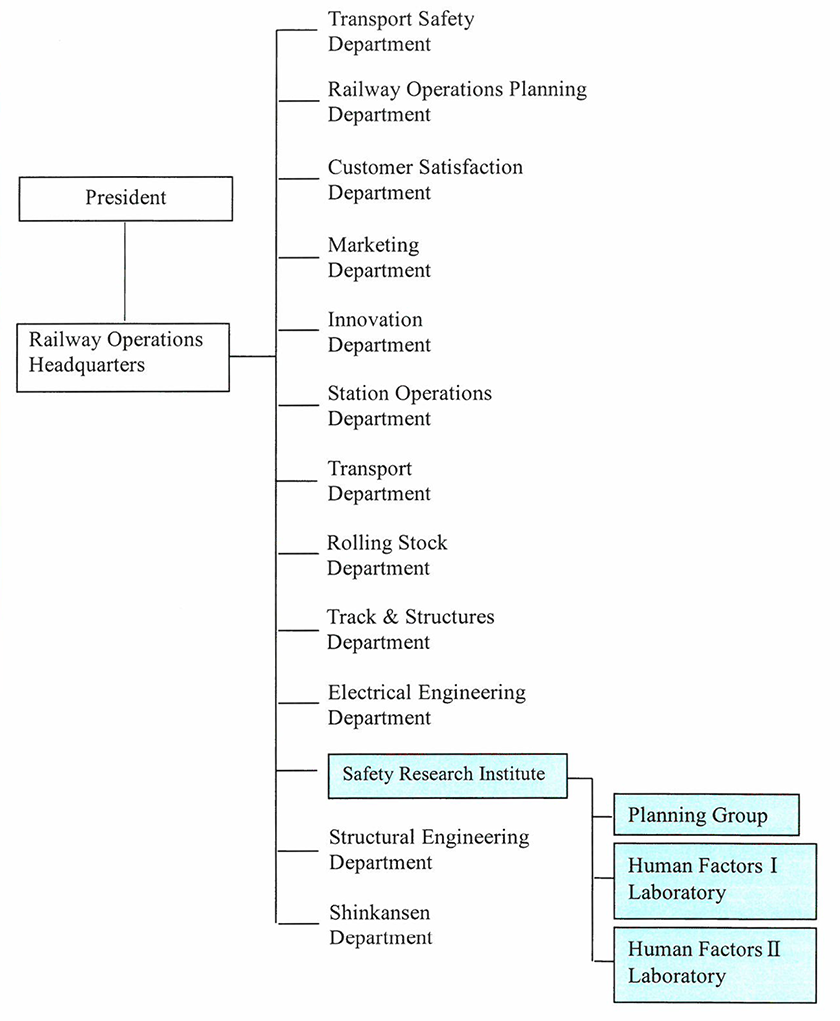 An Introduction to the Research Laboratories
Safety Management Research Laboratory
The Safety Management Research Laboratory strives to create a corporate culture with safety as the top priority through research on the human factors within the organization.
These human factors are assessed from a standpoint where the individual is the main target. However, because companies and workplaces are "teams and collective organizations" with many people focusing on a common goal, the Laboratory firmly believes that there are aspects of human factors in these situations as well.
As such, the Safety Management Research Laboratory also focuses on "Team Error" research based on human factors in teams and collective organizations.
Human Factors Research Laboratory
The Human Factors Research Laboratory aims to improve safety for employees and customers alike by studying the characteristics of humans.
The Laboratory provides recommendations on countermeasures for preventing human error based on human psychological characteristics, physiological characteristics, group characteristics, and focuses on research that contributes to improved safety education and teaching methods.
In addition, the Laboratory also conducts research such as interview surveys and prepares educational materials and other support for countermeasures instituted at the head office, branch offices, and other locations—all based on human factors.
Ergonomics Research Laboratory
The Ergonomics Research Laboratory studies equipment and systems that are easy to operate and that reduce the likelihood of causing human error in an effort to improve safety for both employees and customers.
The Laboratory focuses on human interfaces—the point of contact between equipment (hardware) and the human operator—through research on facilities that are less likely to bring about human error, and equipment and systems that are both easy to use and safe.
The Laboratory's aim is to shed light on how humans acquire information, how we make judgments, and how we interact with equipment.
Facilities and Lab ware

The Safety Research Institute has various lab ware including an advanced simulator for reproducing operation situations, as well as various video and audio devices.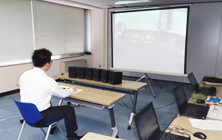 The above depicts an experiment looking for issues in distinguishing between alarm sounds in the train cab while the operator is on board.