Promoting CSR under the Direct Leadership of the President
To enhance our ability to promote CSR as one of management's core tasks, we have been holding CSR Promotion Committee meetings since June 2006. The president serves as chairperson of the committee, while its membership comprises full-time directors, full-time corporate auditors, and general managers of headquarters divisions. We also established the CSR Implementation Office as the executive office of the CSR Promotion Committee.
The CSR Promotion Committee comprehensively examines the current status and issues of each area of operations from a CSR perspective, and makes necessary improvements. Safety initiatives are special matters that are fundamental to our operations, and the president bears ultimate responsibility for these as they are pursued under a safety management structure that clearly identifies a safety manager, who oversees safety-related work, and supervisors in charge of training drivers and other staff.
Relationship between Stakeholders and the JR-West Group
Having employees who are motivated, take pride in their work, and provide high-quality service results in satisfaction and a sense of safety and peace of mind for customers, and contribution to the invigoration of the West Japan area. With the profits earned under such conditions we will assure the sustainability of operations, and build good relationships with shareholders and suppliers.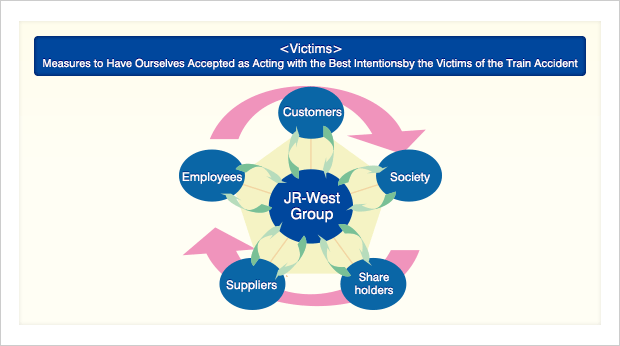 Pursuing CSR by Thinking and Acting Based on the Field
To support and foster the values put forth in our Corporate Philosophy, we have specified eight high-priority fields in reflection of society's demands and use these in enhancing the value we provide to stakeholders.
In upholding our Corporate Philosophy, all JR-West Group employees at all of our workplaces maintain a constant awareness of customers and, with a common understanding of the various issues that arise at front-line work sites, believe it is important to autonomously and collaboratively work to solve them with a sense of urgency. The JR-West Group pursues CSR by having every one of our employees embrace this "thinking and acting based on the field" as the guiding principle of conduct.