Operation Area Network
The JR-West railway network extends over a total distance of 5,015.7 km, covering 18 prefectures. With the objective of enhancing safety, the JR-West Group is united in action to implement its Safety Think-and-Act Plan 2017. Meanwhile, to ensure that our railway inspires trust and a sense of reliability in the customer, we work to instill an ethos of customer satisfaction, to deliver convenient and user-friendly facilities, and to improve the quality of our customer-facing operations.
Transportation Revenues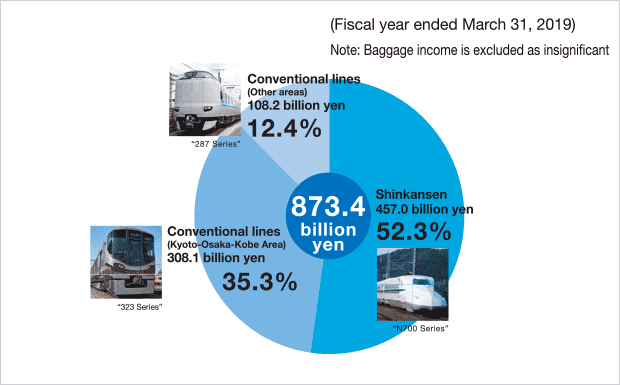 Map of Rail Lines in Kyoto-Osaka-Kobe Area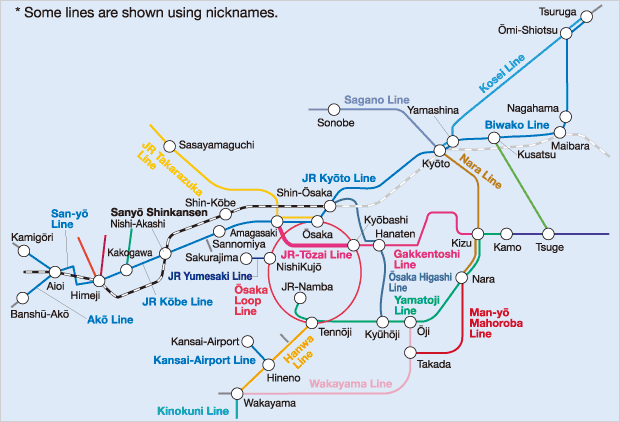 Direct through services on the Sanyo and Kyushu Shinkansen Lines with Mizuho and Sakura
The Mizuho and Sakura shuttles provide direct shinkansen service with 23 return trips between Shin-Ōsaka and Kumamoto/Kagoshima-Chuō each day. The result is greater convenience for those traveling between the Kansai/Sanyo and Kyushu regions.
Fastest journey times
| | | |
| --- | --- | --- |
| | Kumamoto | Kagoshima-Chuō |
| Shin-Ōsaka | 2h58min | 3h42min |
| Okayama | 2h13min | 2h57min |
| Hiroshima | 1h37min | 2h21min |
Journey times for fastest (Mizuho) service (as of March 2013).
Stations served by Mizuho and Sakura trains
Shin-Ōsaka
Shin-Kobe
Okayama
Hiroshima
Kokura
Hakata
Kumamoto
Kagoshima-Chuo
Stations served by Sakura trains (with certain exceptions)
Shin-Ōsaka
Himeji
Fukuyama
Tokuyama
Shin-Yamaguchi
Shin-Shimonoseki
Hakata
Shin-Tosu Kurume
Chikugo-Funagoya
Shin-Omuta
Shin-Tamana
Shin-Yatsushiro
Shin-Minamata
Izumi
Sendai
Kagoshima-Chuo
Sakura trains do not stop at certain stations.
First Class "Green Car" (Car 6)

2 seat rows on each side
Classy interior of
"Green Car"
Standard car with reserved seating
(Cars 4 to 8)

2 seat rows on each side
Warm atmosphere of reserved seating area
Standard car with
non-reserved seating (Cars 1 to 3)

3 and 2 seat rows on opposite sides
Relaxed ambience of
non-reserved seating area
Hokuriku Shinkansen
We are aiming to open the line between Nagano Station and Kanazawa Station in the end of the 2014 fiscal year. The 228 km of tracks in the corresponding area are currently under construction.
West Japan Railway will operate Jōetsu-Myōkō Station as well as stations further west.