SHAMINE MATSUE
*Information is current as of 03/31/2020. (MM/DD/YYYY)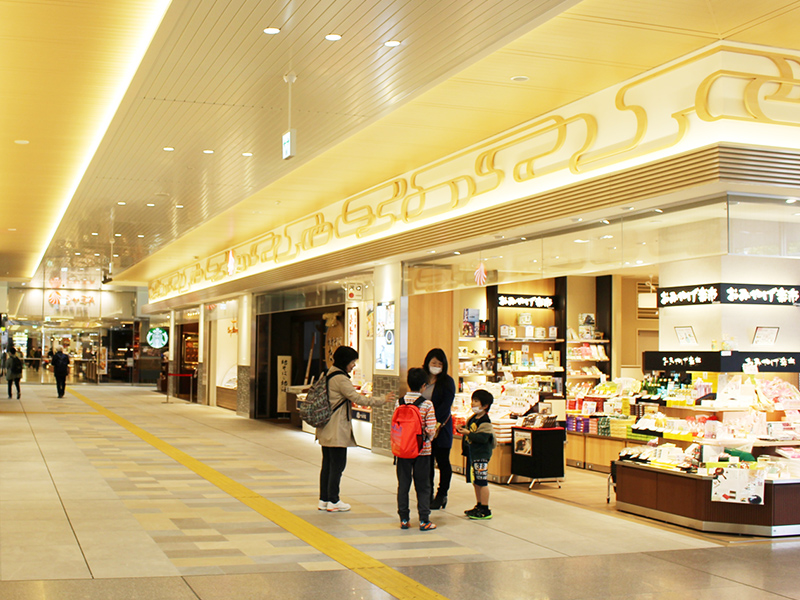 Matsue is an international sightseeing destination with a lot of historic atmosphere. It is home to Matsue-jo Castle, one of the 12 remaining original Japanese castles, known as a city of water, and in the evening the sun sets over Lake Shinji to cast a beautiful glow on the water surface.Located directly next to JR Matsue Station, the entrance to the city, is Shamine Matsue, the perfect one-stop shopping destination for tourists searching for souvenirs, sweets, or a meal.Of special note is Izumo soba, a regional favorite, which is known locally as warigo soba and served in three layered boxes. Don't leave Matsue without trying it!
Recommended Stores
Warigo Soba (Tataraya/Enmusubi-dori)

Japanese sweets "Saimon" (Saiundo / Gourmet Mall)

Matcha fondue (KAnoZA / Gourmet Mall)

Enjoy the bounty of the Japan Sea! (Nihonkai Shoya / Gochiso Plaza)

Shoyu Ramen (Ramen Dining Nasebanaru. Kakeru / Gourmet Mall)
Information
Business hours

| | |
| --- | --- |
| Fashion & Lifestyle Mall | 10:00 a.m. – 8:00 p.m. |
| Enmusubi Street | 9:00 a.m. – 7:30 p.m. |
| Gourmet Mall | 9:00 a.m. – 7:30 p.m. |
| Gochiso Plaza Ajisai | 11:00 a.m. – (closing time varies by store) |

*Times may vary by store or restaurant.
Holidays

Irregular Holidays
Spot information

| | |
| --- | --- |
| Wi-Fi support | ○ |
| Credit card settlement | ○ |
| Ginren card settlement | ○ |
| Tax free | × |
| Foreign-language floor map | × |
| Currency exchange | × |
| Door-to-door delivery | ○ (with exceptions) |
| Interpreting | ○ |
| ICOCA® accepted | ○ (with exceptions) |