EKI MARCHÉ SHIN-OSAKA
*Information is current as of 03/31/2020. (MM/DD/YYYY)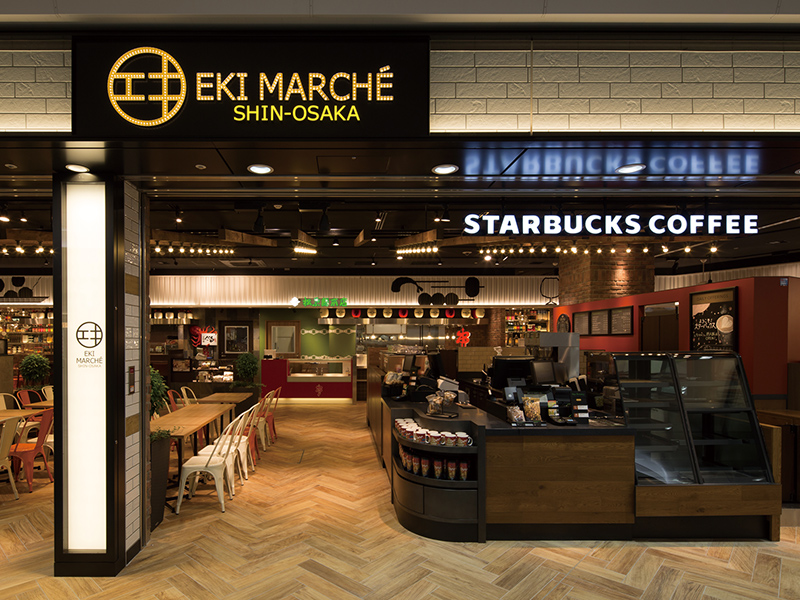 This commercial complex is home to some 36 shops - like gift retailers and restaurants - where everyone can shop at their leisure for Japanese specialties and appreciate famous goods of Kyoto and Osaka. Notable popular items include fresh fruits and fish-shaped pies. You will find restaurants loved by Kansai residents, serving such goods as famous Osaka kushi-katsu (meat skewers), takoyaki (octopus dumplings), omu-rice (omelet filled with ketchup-seasoned fried rice), and ramen, as well as steak bento with Kobe beef and Japan's signature cuisine, sushi.
Recommended Stores
Naniwa Taiyaki Pie[Japanese confectionery]

Fruit garden Yamaguchi Fruits[cut fruits]

Kobe Bifutekitei DELI [KOBE beef steak Bento]

Dashi-chazuke EN[ochazuke—rice with tea poured on it]

Matsuba Souhonten[kushi-katsu]

Omu-rice Hokkyokusei [omelets filled with ketchup-seasoned fried rice]

Dotonbori Kamakura [ramen]

Kaisen Kaiten Zushi GANKO [sushi]

ENTRÉE MARCHÉ SHIN-OSAKA
In the "Japanese Souvenirs Corner" you will find a broad array of famous souvenirs and crafts from across Japan as well as a selection of goods featuring popular characters. Shopping here is like taking a trip throughout the whole of Japan.
Japanese Souvenirs Corner
Information
Business hours

9:30 a.m. - 10:00 p.m.
*some shops vary
Holidays

Open throughout the year
Spot information

Wi-Fi support

○

(Some only)
Credit card settlement

○

Ginren card settlement

○

Tax free

×

Foreign-language floor map

○

Currency exchange

×

Door-to-door delivery

○

(Some only)
Interpreting

×

ICOCA® accepted

○