EKI MARCHÉ OSAKA
*Information is current as of 03/31/2020. (MM/DD/YYYY)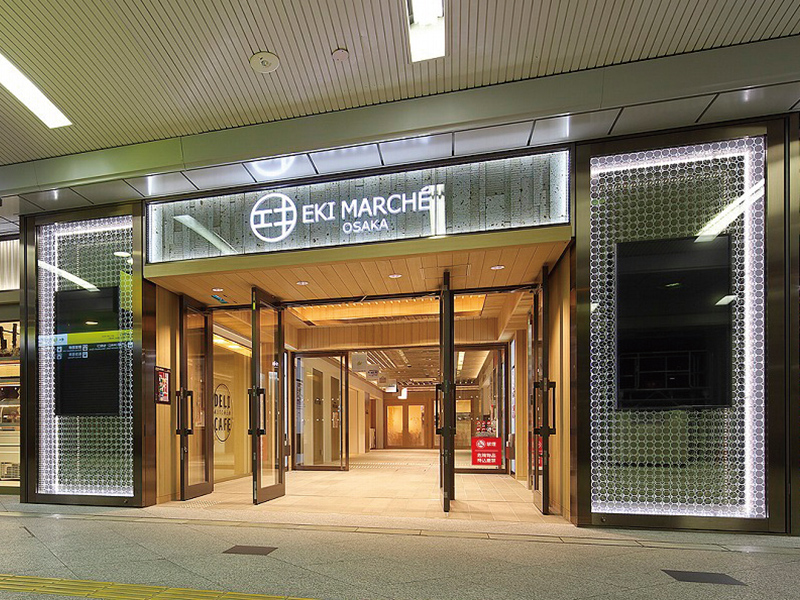 EKI MARCHÉ OSAKA offers some 70 shops, including restaurants and stores carrying deli foods, cosmetics and sundries. We especially recommend Osaka's specialty "takoyaki" (octopus dumplings) and "kaiten-zushi" (conveyor belt sushi). Restaurants also offer "ramen", "gyutan" (beef tongue), "motsu-nabe" (hot pot with offal and vegetables), and "Japanese-style pasta". These shops are popular in Japan and await you too.
Recommended Stores
Takoya Dotonbori KUKURU (takoyaki)

Kaiten Zushi GANKO (sushi)

Motsu-Nabe YAMAYA (countryside hotpot dishes)

CONANA (café & pasta)

HAKATA IKKOUSHA (Hakata ramen)

EKIDONKI EKI MARCHÉ OSAKA
This is a new type of shop for the Don Quijote chain of roughly 300 discount stores in Japan. Customers can find food, daily goods, basic electronics, brand items, and more at discounted prices. The shop has its own tax-free counter and staff to serve you in English, Chinese, or Korean at all times. Seven currencies are accepted, including US dollars, renminbi, euros, and South Korean won.
Benefits
Available benefits vary between shops.
Information
Business hours

10:00 a.m. - 10:00 p.m.
*Some shops keep different business hours
Holidays

Irregular holidays
Spot information

Wi-Fi support
×
Credit card settlement

○

Ginren card settlement

○

Tax free
○ (Some only)
Foreign-language floor map

○

Currency exchange

×

Door-to-door delivery

×

Interpreting

○

(Information)
ICOCA® accepted
○ (Some only)