DAIMARU Umeda
*Information is current as of 03/31/2020. (MM/DD/YYYY)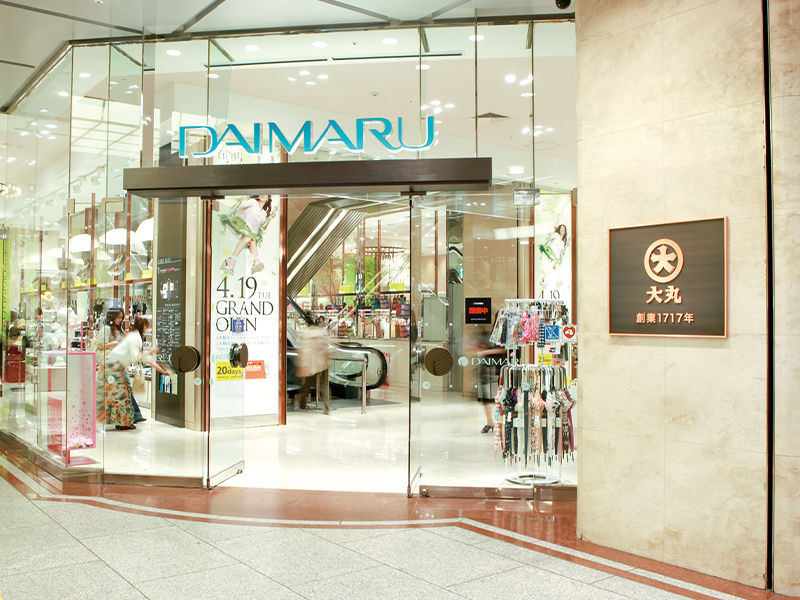 This department store is directly linked to JR Osaka Station. One of the charms of DAIMARU is that its floors specialize in different genres, including western clothing, footwear and timepieces. Also, the store has major tenants too, such as TOKYU HANDS on 10F, 11F and 12F and UNIQLO on the 13F. And, After shopping, why not enjoy a variety of Japanese and Western foods in the gourmet dining district "BISHOKU-KU" on the restaurant floor, open until 11:00 p.m..
Recommended Stores
TSUKIJI SUSHISAY (14F)


Serving sushi without fail for some 120 years, the hand-pressed white sushi rice is the secret to Edo-style delights, with fish brought in directly from Tokyo Tsuji Market to top off the gourmet treats.

CHISŌZANMAI (14F)


Set up like a hotel buffet, it features Western, Japanese, and Chinese cuisine and wonderful desserts. Enjoyable for everyone.

Sanuki udon, shabu-shabu Kumeya (14F)


Noodles made fresh daily at Kumeya strike just the right balance between chewy and tender. Tenzaru udon (cold udon noodles with fried shrimp), donburi (rice bowls), and all-you-can-eat meat and vegetable shabu-shabu.
*Nabe-ryori (hot pot dishes) like shabu-shabu served from 5:00 p.m.
Benefits
Available benefits vary between shops.
Information
Business hours

10:00 a.m. - 8:30 p.m.
< B2F to 9F on Fri & Sat >
Up to 9:00 p.m.
< 10F to 13F plus 15F Every day >
Up to 8:00 p.m.
< 14F Restaurant Floor >
11:00 a.m. - 11:00 p.m.
< 10F to 12F TOKYU HANDS and 13F UNIQLO >
Mon to Sat:
10:00 a.m. to 9:00 p.m.
Sun & Nat Hols:
10:00 a.m. to 8:30 p.m.
Holidays

Irregular holidays
Spot information

Wi-Fi support

○

(ID and PASS available at information desk 1F)
Credit card settlement

○

Ginren card settlement

○

Tax free

○

Foreign-language floor map

○

(English, Chinese, Korean)
Currency exchange
×
Door-to-door delivery

○

(Deliveries only within Japan)
Interpreting

○

(1F Information)
ICOCA® accepted

○

(Some only)