Kyoto Station Building
*Information is current as of 03/31/2020. (MM/DD/YYYY)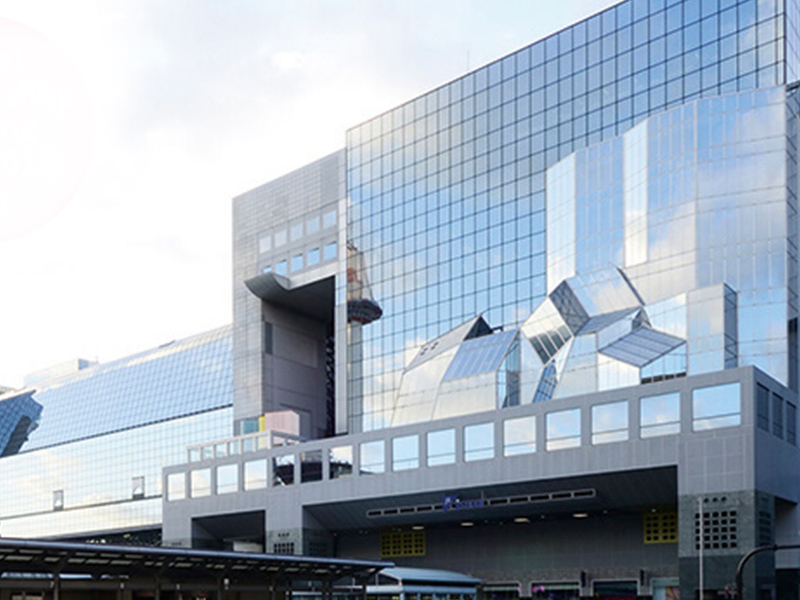 Welcome to Kyoto, an ancient capital full of history and culture! Here, at Kyoto Station Building, the gateway to the city, you will find an array of facilities, such as shops, restaurants, relaxation spots and hotels, accompanied by a diverse range of helpful information and events to make your stay an enjoyable one. One of the highlights of Kyoto Station Building is the famed "big stairs", with 171 steps studded with about 15,000 LEDs that generate amazing light shows created for the season of your stay.
Kyoto Station Building - Big Stairs Graphical Illumination
When night falls on in Kyoto, the Station Building is the place to dine and take in the big stairs.
Spring / Arashiyama

Summer / Gion Festival

Autumn / Colorful leaves

Winter / Halloween

KYOTO SARYO(2F)
In Kyoto, a well-honed culture of hospitality (mote-nashi) exists hand in hand with long-held traditional arts, crafts and a lifestyle matched to the seasons. Likewise, Japanese Tea and Gallery - "KYOTO SARYO" offers a space for encountering a culture built over a thousand years in the ancient capital. With Uji teas and seasonal Kyoto confections served with ceremonial hospitality amidst gems of craft ware created by modern masters, you can enjoy to the full the esprit of Kyoto culture.
Benefits
Complimentary file holder featuring Tetto & Scala (station building mascots) for JR-WEST RAIL PASS holders
Location: Kyoto Station Building 2F Information Center (10:00 am to 7:00 pm)
<Valid until 03/31/2021.>
Information
Holidays

Open throughout the year
Spot information

Wi-Fi support

○

Credit card settlement

○

Ginren card settlement

○

(with exceptions)
Tax free

×

Foreign-language floor map

○

(English, Chinese [simplified / traditional], Korean)
Currency exchange

○

(Nippon Travel Agency on 1F & 2F, and currency exchange on 8F)
Door-to-door delivery

○

(To city accommodation [B1])
Interpreting

○

(2F Information counter [English])
ICOCA® accepted

○