Prism Fukui
*Information is current as of 03/31/2020. (MM/DD/YYYY)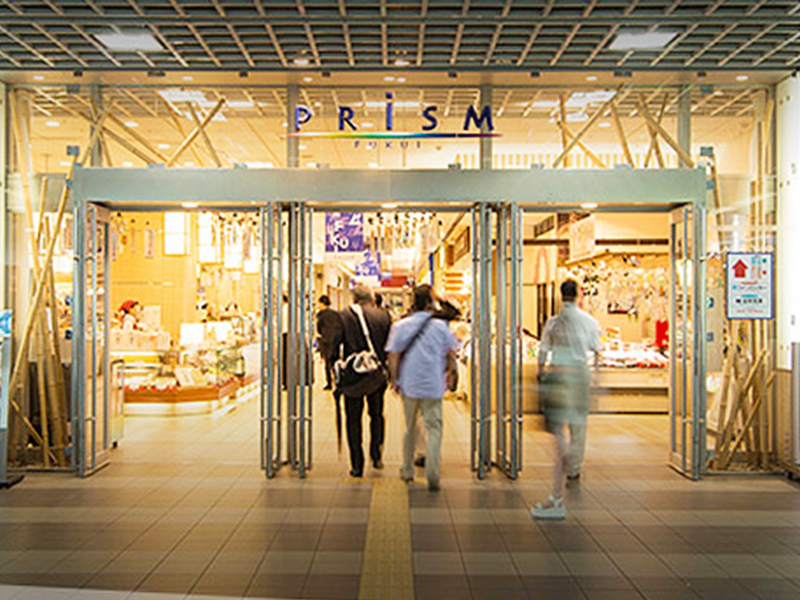 From souvenirs to food and drink to take out and daily goods, Prism Fukui is a commercial facility directly connected to Fukui Station. In the "Souvenir Zone," visitors will find shops proudly offering habutae mochi (glutinous rice cake stuffed with sweet filling), a Fukui Prefecture specialty, and other Fukui specialty products such as seafood from the Echizen Coast, local sake, and handicrafts. Meanwhile, the restaurants offer visitors the chance to savor the unique tastes of Fukui through local cuisine and dishes prepared with locally produced ingredients, includingoroshi soba (buckwheat noodles topped with grated Japanese radish) and sauce katsudon (pork cutlet rice bowl with sauce). Prism Fukui's supermarket also features row after row of value-added additive-free products and other foodstuff with special care given to the ingredients.
Recommended Stores
Echizen Tamuraya

Kauza Nomuza

Kinbaidou

Fukui Warajiya
Information
Business hours

Prism I

〈Souvenir Zone〉
8:30 a.m. - 7:00 p.m.
〈Restaurants〉
11:00 a.m. - 10:00 p.m.

(Times may vary by store or restaurant.)

Prism II
10:00 a.m. - 10:00 p.m.

(Times may vary by store or restaurant.)

Supermarket
10:00 a.m. - 8:00 p.m.
Holidays

Open throughout the year
Spot information

| | |
| --- | --- |
| Wi-Fi support | × |
| Credit card settlement | ○ |
| Ginren card settlement | ○ |
| Tax free | × |
| Foreign-language floor map | × |
| Currency exchange | × |
| Door-to-door delivery | ○ |
| Interpreting | × (Interpreter telephone services available) |
| ICOCA® accepted | ○ |