Kanazawa Hyakubangai
*Information is current as of 03/31/2020. (MM/DD/YYYY)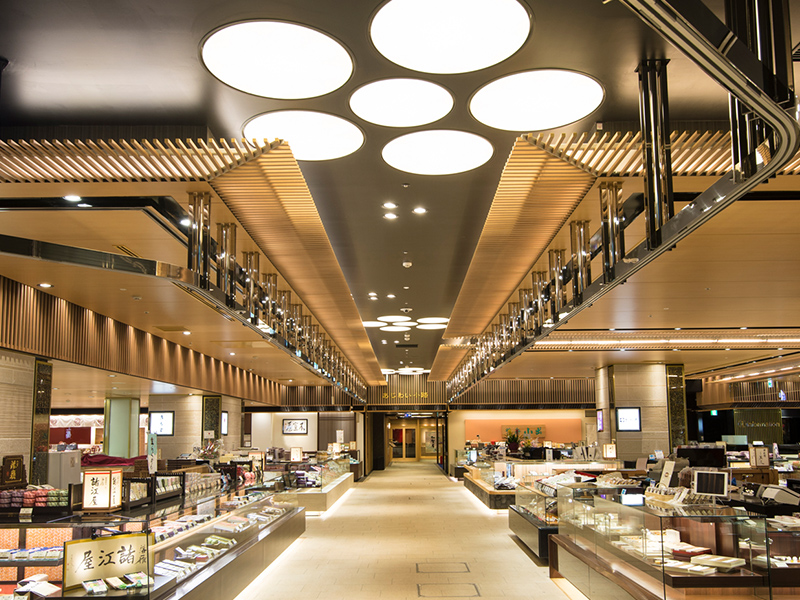 Consisting of three facilities ("Anto," "Rinto," and "Anto-nishi"), Kanazawa Hyakubangai is a commercial facility directly connected to Kanazawa Station. "Anto" offers visitors a selection of Kanazawa specialty goods including Japanese confectionery, delicacies from the mountains and sea, local sake, and handicrafts. The restaurant area invites visitors to savor the unique tastes of Kanazawa through regional cuisine and freshly caught seasonal seafood. With a focus on fashion, "Rinto" boasts cosmetics, accessories, sundries, and food, making this facility the epicenter of Kanazawa style. "Anto-nishi" is designed to meet the daily needs of visitors and includes not only restaurants but also a supermarket, drug store, hotel, and more.
Recommended Stores
Kaburaki Shoho, Kanazawa Kutani

Sakanaya, Seafood Rice Bowls

Kanazawa Maimon Sushi

Kanazawa Limited "Exquisite" Hand Cream
Information
Business hours

Anto 〈Shopping〉
8:30 a.m. - 8:00 p.m.
Anto 〈Restaurants〉
11:00 a.m. - 10:00 p.m.
Rinto
10:00 a.m. - 8:00 p.m.
Anto-nishi
7:00 a.m. - 11:00 p.m.
*Some stores are open from 6:00 a.m.

*Times may vary by store or restaurant.
Spot information

| | |
| --- | --- |
| Wi-Fi support | ○ |
| Credit card settlement | ○ |
| Ginren card settlement | ○ |
| Tax free | ○ (25 shops) |
| Foreign-language floor map | ○ |
| Currency exchange | ○ |
| Door-to-door delivery | ○ (Delivery within Japan only) |
| Interpreting | × (Interpreter telephone services available) |
| ICOCA® accepted | ○ |