Using Trains
Signage at Ticket Gates

Where should I stand on the platform to board a limited/regular express or special rapid/rapid/local service? (Which platform does my train leave from?) How do I find out which trains leave first and which trains stop at which stations?

Check the departure boards found on station platforms and in the station concourse or ask a station staff.
Train Departure Board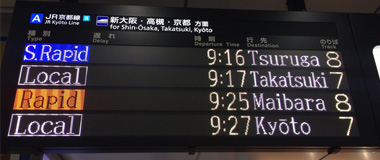 Signage at Ticket Gates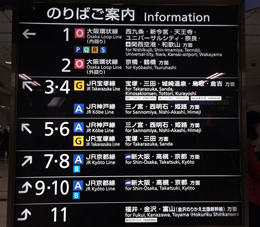 In addition, some areas (Kinki, Hiroshima, Okayama, Fukuyama, and Yonago areas) utilize line colors and symbols. These line colors and symbols are displayed both on route maps and on the side of train cars for use when getting on or changing trains.
Route Map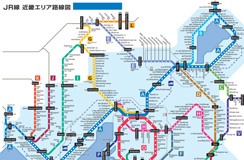 Service indicator on side of train
(Kansai Airport Rapid Service)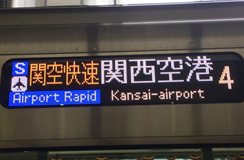 Service indicator on side of train
(Direct Rapid Service)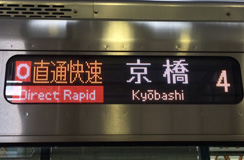 Service indicator on side of train
(Local)